Defective Truck Tire Attorneys in Louisville, Kentucky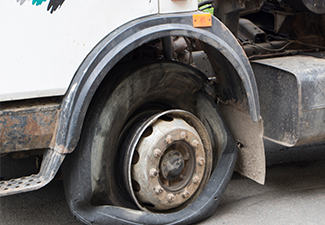 The tires of motor vehicles, buses, trucks, and other automobiles must always be in excellent condition to maintain stability and safety on the road. Unfortunately, tire defects—such as overly worn tires, underinflated tires, overinflated tires, or manufacturing defects—may cause a tire blowout. This could result in a traffic accident, personal injury, or sometimes even death.
If you or a loved one was involved in a serious truck accident that might have been caused by a defective or faulty tire, you may be eligible to pursue compensation for your injuries. Slechter Law Firm, PLLC is dedicated to offering compassionate representation, support, and reliable legal guidance to victims of accidents caused by defective tires or tire blowouts.
Mr. Slechter and Mrs. Slechter can review all of the facts of your case, help identify the at-fault party, and explore your possible legal options to recover damages. As highly-skilled Kentucky personal injury attorneys, they will fight diligently to protect your legal rights and help you seek fair financial compensation to cover your injuries, damages, and losses.
Slechter Law Firm, PLLC is proud to represent clients across Louisville, Kentucky, and surrounding areas throughout the state, including Lexington.
What Are Defective Truck Tires?
A tire defect can be described as any issue with a tire that makes the product unsafe or dangerous for use. Truck tires may become defective due to a design flaw or if the product was inappropriately manufactured before placing them on the truck. Some common truck tire defects include:
Tread separation

Manufacturing defects

Old and worn-out tires

Poorly patched or repaired tire puncture

Wrong-sized tire used on a truck

Tread and steel belt separation

Overly worn tires

Underinflated tires

Retread failure

Overinflated tires
Often, drivers and operators are able to identify when the truck tires are defective and need to be repaired or replaced.
How You Know When You Have Defective Truck Tires
Here are some warning signs of defective truck tires:
Excessive vibration

Cracking or cuts in the sidewalls

Lack of traction

Uneven tire wear

Tires making excess noise while driving

Excessively worn tread

Bulges, cracks, blisters, bubbles, and other irregularities on the tire
Upon noticing any of these signs, it's important to take prompt action to replace or fix the tire defect in order to prevent possible accidents and injuries.
Potential Injuries from Defective Truck Tires
Defective truck tires can result in several devastating consequences on the road. Here are some injuries that may occur due to defective truck tires:
Head and brain injuries

Spinal cord injuries

Cuts and lacerations

Back and neck injuries

Broken arms, legs, hips, and shoulders

Arm and leg injuries

Internal bleeding

Soft tissue injuries

Post-Traumatic Stress Disorder

Vehicle or property damage
If you or someone you know was injured in a traffic accident caused by a defective truck tire, you need to reach out to a skilled truck accident attorney immediately. Your lawyer can investigate every aspect of your case, determine the liable party, and explore your available legal options.
Determining Liability
Depending on the surrounding circumstances leading to the traffic crash, a number of different parties may be held responsible for an accident caused by a defective truck tire. These include, but are not limited to:
The truck driver

The owner of the truck

The designer or manufacturer of the tire or its component

The mechanic who mounted the tire on the truck

Used tire dealer

The company that labeled the tire inflation amount

The tire repair shop or the mechanic shop where the error occurred
An experienced Kentucky defective truck tires attorney can help identify the liable parties, seek to prove negligence, estimate case value, and file multiple insurance claims on your behalf.
Wrongful Death Claims
Losing a loved one in a traffic crash can be overwhelming. In the aftermath, you may be able to file a wrongful death claim. According to Kentucky wrongful death laws, only the personal representative of the deceased person's estate may be eligible to bring the wrongful death action. Additionally, all recovered damages and benefits will be for the surviving family members of the decedent. A trusted Kentucky wrongful death attorney can help file your wrongful death claims and attempt to pursue the rightful financial compensation for your untimely loss.
Work With an Experienced Personal Injury Attorney
Getting injured in an accident caused by a defective truck tire can certainly be a difficult and unsettling experience. Thankfully, Kentucky personal injury laws allow victims to seek damages by filing a claim or lawsuit. When involved in a defective truck tire accident, hiring an experienced personal injury attorney is crucial for detailed guidance and to help you pursue your rightful financial compensation.
Mr. Slechter and Mrs. Slechter have the experience and resources to advocate for your best interests and help you hold those responsible for your injuries accountable. As your legal counsel, they can evaluate and investigate every last detail of your case and determine the best way to move forward. Above all, they will fight vigorously and compassionately for your best interests at every stage of the legal process.
Defective Truck Tire Attorneys Serving
Louisville, Kentucky
If you or someone close to you was hurt in a truck accident caused by a defective tire, you may be able to recover damages. Contact Slechter Law Firm, PLLC, today to schedule a simple case assessment. Mr. Slechter and Mrs. Slechter can guide you through the complex claims process and help you pursue the compensation you need and deserve. The firm proudly serves clients across Louisville and Lexington, Kentucky, and surrounding areas throughout the state.